Share:
---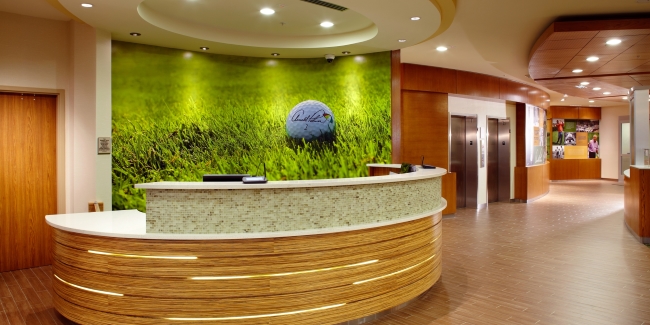 Arnold Palmer-owned hotel wins Hotel of the Year from Marriott
SpringHill Suites Pittsburgh/Latrobe Named Hotel of the Year
Concord Hospitality Enterprises, one of the nation's top-ranked hotel developer/owner/operators, announced that its SpringHill Suites by Marriott hotel in Latrobe, Pa., received 10 awards, including "Hotel of the Year," at Marriott's annual meeting and awards gala held recently at the Gaylord National Resort and Conference Center in Washington, D.C.

The hotel also earned a "Diamond Circle Award" for achievement in several business categories, including guest satisfaction scores in the top five percent of the brand. General Manager Michael Simons was named one of the "Diamond General Managers of the Year."

Chosen from more than 300 SpringHill Suites in the U.S. and Canada, SpringHill Suites Pittsburgh/Latrobe was honored with the "Chairman's Award" for overall guest satisfaction, as well as top honors in the following categories:
* Cleanliness of Suite
* Staff Service
* Intent to Recommend
* Elite Appreciation
* Maintenance and Upkeep
* Lowest rate of reported problems.

"The Springhill Suites by Marriott Pittsburgh/Latrobe has been a pillar of the Latrobe community since it opened in 2012 and is a great pairing with Latrobe's Regional Airport," said golf legend Arnold Palmer, a partner in the hotel. "Earning 'Hotel of the Year' for the entire brand of Springhill Suites is a tremendous achievement that speaks to the quality of the staff and the warm hospitality they show visitors to Latrobe. I have tremendous respect and admiration for this team and their accomplishments."

"Being named 'Hotel of the Year' for one of the highest-ranked brands in its category means that this hotel in a small town in Central Pennsylvania has attained an elite level of hospitality that is unmatched, even by hotels in higher profile markets," said Mark Laport, president and CEO of Concord. "We were well aware of the great work that Michael Simons and his team of hoteliers do on a daily basis, but this level of achievement and recognition is truly remarkable and a real testament to their dedication to the values held by both Concord and Marriott."

Located at 115 Arnold Palmer Drive, across the street from the Latrobe Country Club, the 109-room, all-suite, LEED -certified (Leadership in Energy and Environmental Design) hotel features the 19th Hole cocktail lounge, created exclusively with golfers in mind. The hotel also offers the brand's signature, complimentary hot breakfast, SpringHill Suites' way of making sure guests have a good start to their day. The hotel offers a 24-hour market, business services, same-day dry cleaning, guest laundry facilities, indoor swimming pool, whirlpool spa, fitness center and two additional meeting rooms that can accommodate up to 40 people.



Posted March 3, 2015 || Viewed 2,573 times
Share Comment
Like Us For Local News and Specials